Springfield North High School
Class Of 1974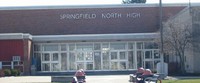 In Memory
Mike Hanlin
Michael O. Hanlin
August 19, 1956
-
January 21, 2019
Michael (Mike) O. Hanlin, 62, passed away on Monday, January 21, 2019 in Fort Myers, Florida, following complications of Pulmonary Fibrosis. Born August 19, 1956 in Springfield, Ohio, he graduated from Springfield North High School in 1974 and the Ohio State University in 1978. Mike was a two-sport athlete, wrestling and baseball while at Springfield North High School and a member of the Ohio State Baseball team between 1975 and 1978.

Mike founded Hanlin Industries Corp. in the late 1970's, a central Ohio construction company, later evolving into Hanlin Rainaldi Construction Corp. in the mid-1990's. Outside of his construction business, Mike invented several patented consumer products. Mike's latest position was Vice President/General Manager of Impact Specialties in Kennesaw, Georgia, a National Accounts division of Construction Specialties Inc. based out of Lebanon, New Jersey.

Mike enjoyed living a life of philanthropy, gifting his time to impact the life of others. One of his greatest joys was to reach back and give to his community. Mike was active in the Central Ohio Diabetes Association, Worthington Arts Council, Worthington Youth Boosters, Worthington Kilbourne and Thomas Worthington Athletic Departments, and the Ohio State University Varsity "O." Mike was a charter member of the Ohio State Baseball Diamond Club, serving a term as organization President and continuing many more years of involvement.

Until his passing, Mike was instrumental in the mentoring of others, whether that was athletically, personally, or in business. He always looked for a way to mentor and coach, and his words and temperament are respected by everyone. Mike always thought of his friends and colleagues as an extension of his family.

Mike was a loving and passionate father to his two boys, Jason and DJ. As the boys grew up, Mike was very involved in their sports, coaching their baseball teams each summer and later turning that enjoyment into business lessons and career coaching.

He was a loving and devoted husband to wife and high school sweetheart, Kim. They enjoyed walking on the beach, golfing, boating, traveling, and spending time with family and friends.

He is preceded in death by his parents, Dallas & Mary Hanlin and grandparents, Carl and Cleo Ford, along with other extended family. Mike is survived by his wife, Kim (Woodrum) Hanlin; his two sons Jason Hanlin (Nicole) from Dallas, Texas & DJ Hanlin (Haley) from Atlanta, Georgia; his sister, Cheri Butler (Ken) from Dallas, Texas; his half-brother, Bill Hanlin (Sharon) from St. Paris, Ohio; along with countless relatives, friends, and colleagues.

In lieu of a funeral service, Mike's family will hold two celebrations of life and gathering of friends. First will be held on February 18, 2019 in the Lexington Country Club community in Fort Myers, Florida. The second will be held in Ohio on Saturday, March 2, 2019 from 3:00-6:00 p.m. at the Bridgewater Banquet & Conference Center at 10561 Sawmill Parkway, Powell OH 43065.

In lieu of flowers, please consider a monetary donation to A Breath of Hope Lung Foundation, an organization that supports patients and family members battling lung disease https://abreathofhope.org or the Central Ohio Diabetes Association https://www.lifecarealliance.org/donate/online-donation/ .
Services by
Fort Myers Memorial Gardens Funeral Home
,
Fort Myers,
FL
Events
Celebration of life
March 02, 2019, 3:00 PM-6:00 PM
Bridgewater Banquet & Conference Center
10561 Sawmill Parkway, Powell, OH, USA