Springfield North High School
Class Of 1974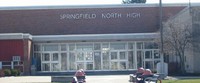 In Memory
Maurice Henry
Maurice J. Henry
July 4, 1956 ~ February 22, 2021 (age 64)
Obituary
Maurice J. Henry, 64, called Wilmington, Ohio home when he passed 22 February 2021. Maurice was a proud native son of Springfield, Ohio.
He was born July 4, 1956 in Springfield, Ohio the son of Morris and Maxine (Stewart) Henry. Maurice graduated from Springfield North High School and Wilmington College. He retired from UPS after many years of dedicated service.
Maurice loved to travel, filling multiple passports with stamps worldwide and driving almost every road in the US. He was Google maps before Google. Ask him how to get from one part of the country to the next, and he would give you turn-by-turn directions and possibly where each speed trap was as well.
Maurice was best known for having a heart of gold. He loved to put it to work, helping everyone he could no matter if they could offer him something in return. He would often give what money he had to those in need and had an open door for anyone who needed a hot shower and a place to sleep. Pick any city in southwest Ohio, and you will find someone that Maurice has helped lift up in some way, shape, or form. He was an amazing soul that has left a void that will never be filled again. He was loved by all and will be missed forever.
Maurice is survived by his sons. Maurice Jr. and David; his grandchildren, Isabella, Audrey, and Okpara and his siblings, Jackie, Linda, and Bruce and a host of nieces, nephews, cousins, other relatives and friends.
A Celebration of Life service is pending.